10 Inspiration Recipes to the Office During the Week, Practical and Healthy!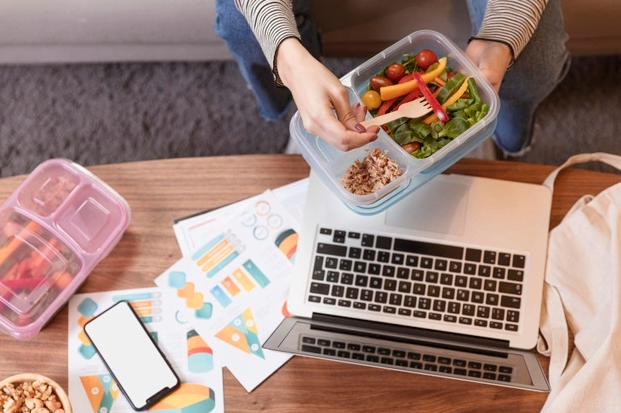 Mommies or husbands have started to return to work in the office? Prepare provisions to the office with the following practical menu. Mommies can prepare it in just ten minutes, you know.
Currently, there are many offices that re-implement work from office. This is because the case of the COVID-19 pandemic in Indonesia is improving. For Mommies who during WFH are used to cooking themselves at home, must definitely adjust again to prepare food to the office.
Instead of having to buy food every day, Mommies can bring provisions to the office. The menu can be more diverse and certainly healthier! If mommies want food that is practical and can be prepared in a short time, check out the recipe to the office for the following week.
Inspiration for home cooking recipes for supplies to the office
Monday
Starting the workday on Monday, Mommies need food that makes the spirit of work increase. You can try bringing a supply of pepper tofu and fresh lettuce salad.
1. Omelet tofu peppers
Material:
4 eggs, shake off
250 grams silk tofu, cut into small dice
25 grams red peppers, cut into squares or triangles
1/2 onion, thinly sliced
2 leeks, thinly sliced
1 tsp pepper powder
1/2 tsp salt
Flavoring (optional)
3 tbsp margarine
How to make:
Mix the eggs, tofu, peppers, onions and leeks in one container.
Then add the pepper, salt, and flavoring. Stir until all the ingredients are evenly mixed, Mommies.
Heat the margarine in a flat, non-stick frying pan, then pour in the omelette dough and flatten.
Lower the heat, covering until the bottom is cooked. If it feels ripe, turn the omelette and cook the other side until cooked. Turn off the heat and lift.
The tofu paprika omelette is ready to serve.
2. Fresh lettuce
Material:
A few sheets of watercress
2 tomatoes, thinly chopped across
2 cucumbers, cut into small squares, after discarding the middle
1/2 lemon, take the water
1 tbsp olive oil
50 grams grated cheese
How to make:
Arrange lettuce leaves, tomato pieces, and cucumbers.
Cover the olive oil and a squeeze of lemon. Stir.
Sprinkle over with grated cheese.
Fresh lettuce creations are ready to be enjoyed.
Tuesday
On Tuesday, we try to cook fried rice typical of Indonesia that can make you full while working in the office. In addition, complete with sautéed broccoli garlic.
1. Oriental fried rice
Material:
250 grams of white rice
50 grams onions, roughly sliced
150 grams medium-sized shrimp, peeled
100 grams chicken fillet, diced
1 chicken egg, shake off
50 grams carrots, small diced
1 tbsp salted soy sauce
1 tbsp ketchup
2 tbsp cooking oil, to sauté
1 tbsp margarine, to sauté
Fine seasoning:
3 cloves garlic
2 pieces of red chillies, discard the seeds, boil for a while
1/4 tsp peppercorns
Salt to taste
Complementary:
2 leeks, sliced cm, for sprinkles
Cucumber to taste
How to make:
Heat the oil and margarine, sauté the seasoning finely and onion until fragrant.
Put in the prawns, chicken and carrots, stirring well. Pick it up for a minute.
Put in the eggs and mix well. Add the rice, ketchup and salted soy sauce. Stir again until well mixed and lifted. Serve with the appendages.
2. Sautéed garlic broccoli
Material:
200 grams of broccoli
1 tbsp olive oil
1 onion
2 cloves garlic
How to make:
Boil the broccoli until cooked for about 3-5 minutes. Drain.
Prepare the pan and add the olive oil. Put the onion on and sauté for up to 2-3 minutes or until golden.
Next sauté the garlic for a minute. Add the broccoli and cook for two minutes until well mixed and add the sautéed onions.
Remove sautéed broccoli garlic and serve.