10 Movie Recommendations About Animals to Watch With Your Little One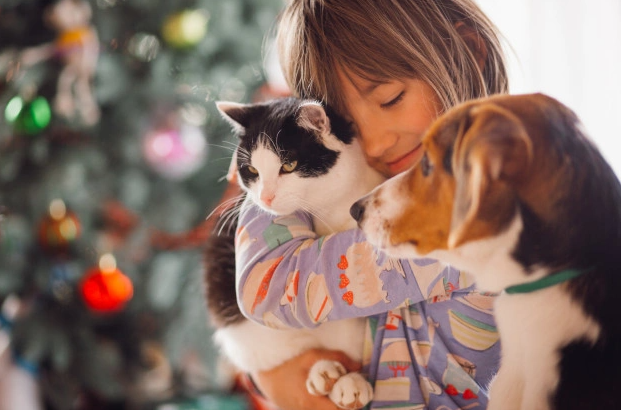 There are many types of movies for kids that can be an option to watch. However, if Mommies and Your Little One want to find a movie about animals, here are the recommendations.
Basically, children are born with a high love for nature, including the animals in it. However, they can grow up with different perspectives depending on their individual experiences. Therefore, because children must live side by side with animals until they grow up, it is important to equip them with the values of environmental and animal affection. Introduce children to the various animals in the world and how to treat them well.
One way that can be done is through movies. Some movies about animals can foster a child's love and desire to protect them. Starting from dogs, cats, rabbits, to dolphins.
Here are the movie recommendations about animals that can be watched with the Little One:
June & Coffee
The film tells the story of a white street dog adopted by Aya and her husband, Ale. The dog was named June. In this film, we can see how June who previously lived alone on the streets must adapt to her new family. She also has a new friend, Kopi, who has been Aya and her husband's pet dog for several years.
June & Kopi presents a heartwarming story about the friendship between dogs and humans. In fact, Karin (Aya and Ale's son) looks very familiar and loves June, and vice versa. There are many scenes that draw laughter and tears from this film. Suitable for cultivating a child's love for pets.
Zootopia
From elephants to rats, Zootopia is a city where a variety of animals live and breed. One day, Judy Hopps, becomes the first rabbit to join the police force. With his new assignment, he must order and enforce the law in the city of Zootopia. Unfortunately, it's not an easy thing. Teaming up with a fox, Judy strives to create a safe city for the animals that live there.
This film invites us on an adventure to the city of Zootopia with a variety of animals that become citizens. In addition, there are also many values that can be taken, especially about respecting others and teaching children to avoid discrimination.
Dolphin Tale
While swimming in the high seas, a young dolphin got into a man-made trap that injured its tail. Although rescued and taken to an animal hospital, the dolphin's tail suffered severe injuries. He also needs a miracle to get back to his habitat.
In the healing process, this dolphin meets kind-hearted humans who are ready to accompany and help him to swim again.
Sing
Want to see how the animals audition to sing? Mommies and Little Ones can watch the movie Sing. The film begins with the story of a koala named Buster Moon who wants to maintain his father's legacy theater by holding a singing competition. Although the idea was rejected by investors, but Moon did not give up and desperate to carry out his wishes with the rest of the money he had.
The excitement begins with the emergence of animals such as shrimp to giraffes that display their abilities. The songs that appear in this movie also give rise to the desire to sing with them!
Hachi: A Dog's Tale
Based on a true story, the film tells the story of a dog named Hachiko who is very loyal to his owner. Hachi was raised and cared for by a professor, and since then the relationship between the two has been very close. In fact, Hachi routinely dropped off and picked up his master every day. He waited at the station door until the professor arrived.
Hachi's loyalty and proximity to his owner made the audience very moved. This can be a lesson for children to love animals because they also have feelings of love that are not inferior to humans.
Vivo
The film follows the story of a kinkajou named Vivo who often spends his time playing music in the crowd in Havana with his owner, Andrés. Although it speaks different languages, Vivo and Andrés are very compact.
One day, Andrés receives a letter from Marta Sandoval, a famous singer who is also his old friend. Marta wants to invite Andrés to her farewell concert. However, a problem ensued that Andrés had trouble replying to Marta's message. Vivo became the only hope to send the message to Marta. Aided by Gabi, an excited teenager, Vivo embarks on her adventure to Miami to help her best friend.
Charlotte's Web
This film is quite unique because it tells about the friendship between pigs and spiders. One day, a girl named Fern finds a pig and keeps it. The pig was named Wilbur and placed on the farm with the other pigs. It was in this new place that Wilbur met Charlotte, the spider.
Although they are very different, but the friendship of the two is quite close. Like the pigs on the farm, it was time wilbur would be slaughtered so that the meat could be sold. Here, with the cobwebs in her possess, Charlotte attempts to save Wilbur.
Dr. Dolittle
At the beginning of the film, we can see how John Dolittle's character can talk to his pet dog. Yup,this movie tells the story of a surgeon who can communicate with animals. In the film, we see how Dr. Dolittle listens to the problems of the animals he encounters and how he helps them. Starting from dogs, guinea pigs, geese, to tigers. Especially with Dolittle's ability in the medical field, sometimes he helps animals that are injured.
Bambi
This classic Disney movie tells the story of the friendship of Bambi, a little deer, with Thumper, a cute rabbit. The two of them often go on great adventures together. However, one winter, the hunters kill Bambi's mother and make her sad. Bambi's film describes human greed that often damages forests and injures the animals that live there.
Finding Dory
A sequel to Finding Nemo, the film is set six months after Marlin manages to find Nemo, who at that time also got help from Dory. In this film, Dory has a desire to know her origins and who her parents are.
The journey to find the Dory family begins with a current to Morro Bay, California. However, in the middle of the journey, Dory is separated from Marlin and Nemo. Full of adventure, this film is also suitable to be a choice to watch with the Little One.