4 Problems of Working Mothers Who Have Elementary School-Age Children
There are some problems that are usually experienced by working mothers, especially if they have children who are still in elementary school age.
The name of the working mother certainly has its own challenges in raising children. The challenges present usually vary as the child ages. The challenge of working mothers who have newborns, of course, is different from working mothers whose children are toddlers.
In contrast, working mothers whose children enter elementary school with working mothers whose children enter adolescence. Then, as a working mother who has an elementary school-age child, what are the problems that often working mothers face?
1. Difficulty getting involved in school activities
Working mothers will usually find it difficult to get involved in the school activities of the child who is quite large. For example, if the child's school holds a Professional Day and parents are given the responsibility to participate in it such as to make proposals, not to mention coordination with the parents' mothers and the school. Moreover, working mothers must also perform their work responsibilities while preparing the needs of children's school events.
Occasionally it may not be a problem, but for the next Mommies can participate in children's school activities in other forms. For example, contributing ideas, helping financially, and coming on day H especially when children appear in the event.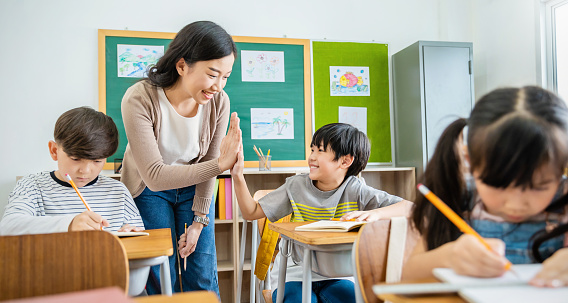 2. Likes to miss information about Teaching and Learning Activities
Even though you are already in a WhatsApp group, working mothers can still be late and skip information because you can't stand by every time to read conversations in the group. Therefore, working mothers can prepare for example twice the special time to listen to chats in the child's school WhatsApp group.
Try actively asking if any information is passed because you only had time to open a group after work. Also determine a rather leisure time for example during recess in the office and at night when you have finished work and go home.
3. Running out of energy to accompany children to study
After a long day working in the office, of course, working mothers also run out of energy to accompany children to study and do homework from teachers at school. If forced there is even a period of learning will feel tense and children can not even absorb the lesson well. Another solution can be to find a tutor for children.
Mommies can also occasionally take the time and make time to accompany the child to study and ask if the child has difficulty in learning and doing tasks. Accompanying children to learn has many benefits such as, helping children to be able to focus more on learning, increasing closeness with children, helping children discipline in learning, setting a good example from parents to children, and much more. So, make sure not to get out of hand even though there is a tutor and tired of working all day, yes!
4. Dizzy thinking about school supply menu
Preparing a child's school menu every day does require effort and creativity. The name of the children will certainly be easily bored if given provisions that are only that and not varied. So, this is where mom's creativity works at stake! The times are sophisticated, working mothers can check YouTube, Instagram, and Googling for nutritious, delicious, and children's favorite menus.
Do not take it lightly, providing a menu of provisions for children also has good benefits, you know. In addition to saving money and avoiding children from snacking food that is dangerous and unhealthy for the body, bringing provisions for children can improve the child's performance and energy, and guarantee and provide nutritious food for children.
Occasionally it can be more money for children if they do not bring provisions, but make sure in advance that the child has been given a myriad of advice and warnings to be smart to choose snacks at school. Think of it as an exercise they manage snack money and get to know the types of healthy and unhealthy foods.